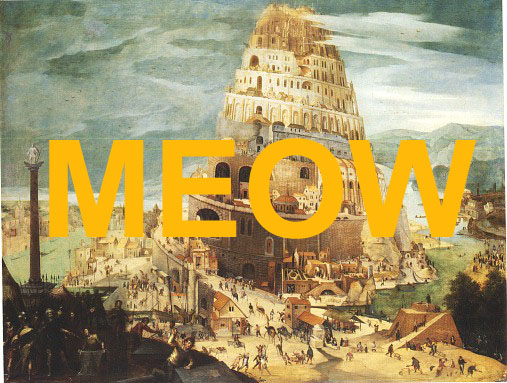 MEOW #0011
The Pyramids. The Great Wall of China. The Taj Mahal.

These are some of the greatest wonders produced by humankind. And yet, they are bound to seem like worthless trinkets when compared to the latest undertaking by The Marxist Nudist Taxidermy Club: the creation of the world's largest online database of people meowing like cats.

Obviously, the first response for many will be shock. Can this be done? Is such a divine act of genesis even physically possible in a universe defined by rules that shackle us without reprieve?

Then, the naysayers will emerge. SHOULD this be done? Is it not an enterprise of extreme hubris and folly? How close to the sun can we fly before the risk of burning up becomes an inevitability?

FIE! FIE ON THAT! The drive to build, to forge new horizons, is practically engraved on our DNA. This is not so much a choice, but a destiny, and if it ends destroying everything we hold dear, then so be it. Better to go out in a blaze of glory, then surrender to a legacy of weakness.

If you would like to claim a piece of immortality, please send an audio clip of yourself meowing like a cat to marxnudetaxiclub @ gmail.com.

PLEASE DO NOT SEND CLIPS OF ACTUAL CATS MEOWING. THIS IS THE PEOPLE MEOWING PROJECT, NOT THE CATS MEOWING PROJECT.